Yosemite DUI Defense Lawyer
Ok brace yourself- there is actually such as thing as Federal DUI charges. One of the most common questions I get, when I tell people that I regularly handle Federal DUI cases is, "how do you get a Federal DUI"? Well if your reading this web page, then you probably already know the answer to that question. If you are stopped for drinking and driving on Federal land, such as within Yosemite or Sequoia National Park, you can be cited for a DUI under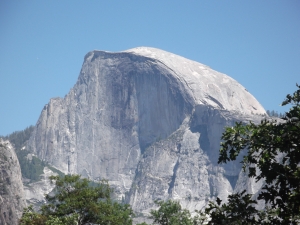 Federal Law. Yosemite DUI Attorney Michael E. Mitchell regularly handles DUI related offenses in Yosemite National Park and Sequoia National Park. If you've been cited for a DUI in a National Park then you have most of the same rights you would normally have on a State charge. You have the right to a DMV hearing within 10 days of the date of your arrest. In addition, you have the right to have an attorney present and the right to contest the evidence against you. Its very important that you contact us within the 10 day period so that we can arrange your DMV hearing. Park service rangers routinely make mistakes when it comes to the DMV procedures. The reason is that many of the rangers are not peace officers as specified under the California law. In addition, they don't always comply with the requirements that the DMV imposes. These errors can lead to you avoiding a suspension, but it is important that you do not forfeit your right to the hearing by failing to set the hearing within 10 days.
Handling Yosemite DUI Cases in Federal Court
The DUI offenses in Federal Court are codified in two sections, 36 CFR Section 4.23(a)(1) and 36 CFR 4.23(a)(2.), those are equivalent to California's Driving Under the Influence (VC section 23152(a)) and Driving with a .08% or more blood alcohol concentration (VC section 23152(b.) One of major differences, however, between a DUI in State Court and a DUI in Federal Court, is regarding your right to a jury trial. On Class B misdemeanor DUI offense under Federal Law (the majority of DUI offenses are class B offenses in Federal Court), you have the right to a court trial, as opposed to State court, where you have the right to a jury trial. If you've been charged with a DUI in Yosemite National Park, call Yosemite DUI Defense Attorney Michael E. Mitchell today to see how he can defend your case, you can reach him at (559) 222-2424.
In addition pursuant to Federal Rule of Criminal Procedure 43, we may be able to appear on your behalf depending on where you are located in relationship to the Yosemite court. This is another reason to contact our office right away. We need to move quickly to make sure that we can get the request before the court. Typically, Yosemite sets your first court date, which is called the arraignment, very quickly.
Years of Experience Handling Yosemite Park DUI Cases
Over the years, Michael E. Mitchell has handle numerous cases for clients accused of driving under the influence in Yosemite National Park. He knows the in's and outs of the court system and will bring his knowledge and skill to bare on your case. Yosemite DUI Attorney Michael E. Mitchell is familiar with the Yosemite Magistrate Court, the court staff and the National Park Service prosecution team. You need the best on your side and if you decide to go with Mr. Mitchell's office, that is exactly what you'll get. Mr. Mitchell has vast experience handling Yosemite Federal DUI cases. He's been able to get many Federal DUI cases dismissed or drastically reduced. In addition, he's even been able to completely exonerate a defendant by having even the record of arrest expunged in Federal Court!!
Don't take a Federal DUI Charge Lightly
A Yosemite Federal DUI is just as serious, if not more serious, than a State DUI Conviction. A Federal DUI subjects you to the possibility of significant jail time, heavy fines and lengthy probationary periods (which may require formal supervision). Don't delay, call Yosemite DUI Lawyer Michael E. Mitchell today to get the peace of mind that you have an attorney on your side who actually knows what he's doing, you can reach his office 24 hours a day, seven days a week at (559) 222-2424.