Boating Under the Influence (BUI) in Fresno, California
Every summer it happens. Law enforcement is out in force on the water ways of California looking for boaters who happen to be operating watercraft under the influence of alcohol or drugs. While many people don't often think about getting cited or arrested for drunk boating, this can and does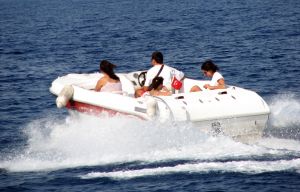 happen quite often. If you have been cited for this offense, contact Fresno boating under the influence attorney Michael E. Mitchell today for a free consultation on how to defend your case.
Our state has enacted specific laws contained within the Harbor & Navigations Code regarding boating under the influence, or BUI (Harb. & Nav. Code sections (b)-(d)). It is also important to remember, that BUI can also be based upon drugs as well as alcohol. These days officers are on the lookout for any symptoms of intoxication when they contact a boater or a motorist. Many in law enforcement follow the credo that every stop or detention is a possible under the influence situation. In addition, DUI boating carries some heavy consequences, in some ways, just like driving under the influence. If you are charged with BUI in Fresno, California you will be facing some heavy fines, jail time and attendance at a DUI school (typically 3 months-18 months depending upon your record.)
Will a BUI Cause my License to be Suspended?
Fortunately, for those charged with a BUI, although a BUI conviction is treated like a prior DUI for the purposes of a subsequent prosecution for DUI, it does not initially result in a DMV suspension. (Cinquegrani v. Department of Motor Vehicles (2008) 163 Cal.App.4th 741, 749.) However, as stated in the Cinquegrani decision, DMV already has proposed legislation in the works to resolve this situation. In addition, in any future DUI charge you would be treated just like you had a prior DUI, subjecting you to a longer jail sentence, 18 month DUI school and longer suspension (at least 2 years minimum). Do not take a BUI conviction lightly, when looking for an an attorney that expertly handles boating under the influence cases in the Central Valley, look no farther than the Mitchell Law Group.
Can my boating under the influence case be defended by a DUI Attorney?
California Park Rangers and Sheriff's Deputies patrol lakes such as Millerton, Shaver, Bass Lake, McClure, Don Pedro, looking to catch people operating boats or water-skis while under the influence. However, a BUI is defended in much the same way as a DUI. The first element that must be established is that you were operating the boat. This can be difficult since on a boat there are not defined areas like a car, must boats are open and people can move around. In addition, waves and sun may make it to be absolutely sure who was driving the boat.
Attacking the Evidence to Expose the Truth
Field sobriety tests can be difficult if not impossible to perform with any measure of accuracy on the water. Your equilibrium would also be effected once you are on dry land, limiting the usefulness of any physical tests at that point. Moreover, the accuracy of the breath test must also be established with calibration records that show the date and time the instrument was checked for accuracy. These records are subject to the same standards as in a DUI case. In addition, maintenance logs may also show errors that the device was reporting and cast doubt on the overall result.
Blood tests can also be attacked in a variety of ways such as, improper collection, chain of custody, contamination, retesting for a lower result, and failure to obtain a warrant if the subject refused the test. BUI may also be reduced to a lower offense such as being a crew member under the influence of alcohol, which carries no DUI consequence and a much lower punishment (Harb. & Nav. Code section 655.4).
Overall, BUI cases are subject to many defenses and provide a great field of inquiry for a tenacious DUI lawyer. Because of the serious consequences at hand it is imperative that you contact Mitchell Law Group and speak with a knowledgeable Fresno Boating Under the Influence Lawyer today to explore the strengths and weaknesses of your BUI case.