Fresno Theft Crime Attorney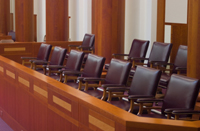 In the state of California theft crimes encompass a broad spectrum of criminal offenses. These offenses include: robbery, shoplifting, carjacking, petty theft/grand theft, fraud, burglary, embezzlement, and receiving stolen property. If convicted for a theft related charge, the punishment can vary from community service to prison sentences. If you are accused of a theft related offense, you need the criminal expertise that the Mitchell Law Group can provide.
Fresno Theft Crimes Attorney Michael Mitchell is a serious trial attorney who can help you avoid the disastrous effects of a theft conviction. The Mitchell Law Group, Inc. is based in Fresno, California and represents clients in counties across the central valley, including the counties of Merced, Madera, and Tulare. To arrange a free initial consultation, call our office today at (559) 222-2424.
In California, a conviction for a theft crime can follow you for the rest of your life. Any theft related judgment can make finding/keeping a job very difficult. A theft conviction, such as fraud or embezzlement, can show up on routine background checks that many jobs require. If you are convicted of a theft crime seeking a new job becomes difficult because employers worry that you may steal from their company. If you have a job that requires a license through the State of California a theft conviction can make it almost impossible to obtain or keep a professional license. All theft crimes are considered crimes of moral turpitude. Not only will these convictions affect a license, they also will affect immigration issues such as obtaining a green card, visa becoming a naturalized United States Citizen, and can even result in deportation.
The Mitchell Law Group, Inc. is here to help. Not only will we fight for your rights to prevent a conviction, if convicted we can help to expunge this conviction from your record. Call (559) 222-2424 for the knowledgeable legal help that you need.