Clovis, California DUI Defense Attorney
Until recently, DUI cases in Clovis, California were heard at the Clovis Justice Court. However, with the Fresno County court consolidation that occurred in 2012, all Clovis Driving under the Influence cases are now heard downtown at the Fresno County court house at 1100 Van Ness Avenue.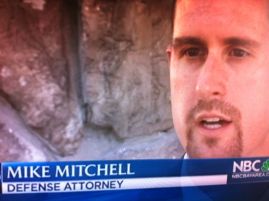 Although the clovis court house is no longer, Clovis DUI Attorney Michael E. Mitchell and his team still continue to represent clients accused of drunk driving in Clovis. If you've been accused of drunk driving in Clovis, it is important that you hire a veteran Clovis DUI Lawyer to handle your case. Mr. Mitchell is about as knowledgeable as attorneys come in the field of DUI defense. He has handled numerous DUI cases In Clovis, California and has an excellent reputation in Fresno County. He is a member of the National Association of Criminal Defense Lawyers, the National College of DUI Defense and the California DUI Lawyers Association. In addition, he certified field sobriety test instructor and practitioner.
Reputation and Experience Speak Volumes
If you've been cited for a misdemeanor DUI in the City of Clovis, your case will be set for an initial appearance in the downtown Fresno Court. That initial appearance is called an arraignment. At an arraignment on a misdemeanor we can appear on your behalf and enter a plea of not guilty and commence the defense of your case. An experienced and aggressive Clovis DUI Defense Attorney can make a tremendous difference in negotiating your case with the district attorney and making sure you are advised regarding the law. Due to the fact that a misdemeanor DUI in Clovis carries the possibility of time in the county jail, you want to make sure have the best representation possible on your side. We have successfully handled hundreds of DUI cases in both Fresno and Clovis.
Our Clovis DUI Attorneys are on your team and on your side
Don't go it alone, make sure you have a Clovis DUI Attorney who knows what he's doing and how your case should be defended. Call Michael E. Mitchell today for a free initial consultation to see how he can defend your case. If You've been cited for a DUI in Clovis, its critical that you contact a DUI Lawyer in Clovis as soon as possible, so the process of defending your case with the DMV can start as soon as possible. You have only 10 days from the date of your arrest to contact the Department of Motor Vehicles to set your hearing and contest the suspension of your license.
Put our Tenacity to Work for Your DUI Defense Case
A delay can result in serious and unpleasant consequences for your drivers license. Not all DUI Attorneys in Clovis understand the DMV aspect of drunk driving defense or the technicalities that can lead to a favorable outcome in the criminal court, that's why it is essential that you hire a Clovis, California Law Firm that specializes in DUI Defense. Call the Mitchell Law Group today for a free initial consultation to find out how we'll attack your Clovis Drunk Driving case.