Los Banos DUI Lawyers
The City of Los Banos, is located on the outskirts of the County of Merced. Motorists traveling through the Los Banos area often encounter a heavy law enforcement presence on the streets, including Los Banos Police, California Highway Patrol, as well as the Merced County Sheriff. Los Banos and Merced County are serious about prosecuting drivers charged with drinking and driving.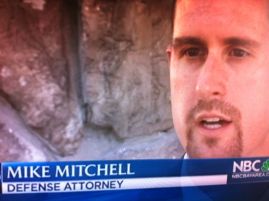 That is exactly why you need a serious DUI Lawyer in Los Banos to defend your case. Hiring a knowledgeable and reputable advocate can have a serious impact on the outcome of your case.
If you've been charged with drinking and driving in Los Banos, California, Michael E. Mitchell and his firm are on your side. Mr. Mitchell is exceptionally qualified and familiar with the Los Banos and Merced County Court System. He has spent years practicing in the Central Valley and understands the intricacies of DUI defense. In addition, we understand the fear and worry that comes with a DUI charge and we promise that we will be with you every step of the way.
Defending your DUI Case
We know that if you've been cited for a DUI in Los Banos, California, you are wondering what you should do now. You are probably thinking, how do I protect my license?, is there a chance I might be able to successfully defend this case? Los Banos DUI Lawyer, Michael E. Mitchell, knows how to professionally and expertly represent clients in front of the Department of Motor Vehicles (DMV) and in the Los Banos court. You don't want to trust your case to an inexperienced amateur attorney and discover later that you paid a heavy price. Michael E. Mitchell is an expert when it comes to DUI defense in Los Banos, California and he will put his experience to work for you.
Get the Best Los Banos DUI Defense Lawyer at Reasonable Price
Mr. Mitchell, is a Los Banos DUI Defense Lawyer who has a track record of success that he'd compare to any other Drunk Driving Attorney in California and the San Joaquin Valley. Michael E. Mitchell, is a member of the National College of DUI Defense, California DUI Lawyers Association, and is a certified Field Sobriety Instructor according the the standards of the National Highway Traffic Safety Administration. He regularly attends DUI related seminars and stays up to date on the latest developments and case law in the area of drunk driving defense. Most importantly, he regularly and successfully wins DUI cases.
A Record of DUI Defense Excellence you Can Count On
Mr. Mitchell and his team know the defenses that may mean the difference between a conviction or a dismissal. Mr. Mitchell also has an amazing understanding of the nuances of DUI Defense. His skill and experience often lead to impressive outcomes for his clients. Don't entrust your driver's license and your freedom to someone who is experimenting on your case and doesn't have a thorough understanding of the area of DUI Defense. Mr. Mitchell is part of a small group of serious Los Banos DUI Lawyers in the Central Valley. He is a regular in the Los Banos court and he knows how to defend Drinking and Driving cases in Merced County. Call Mitchell Law Group today for a free evaluation of the strengths and weaknesses of your DUI case.